Health and Love Crystal Spiral Mandala
A Spiral Mandala for Universal Love and Health. Created on Kauai under a gorgeous full moon with 144 gems spiraling around a large Rose Quartz Sphere.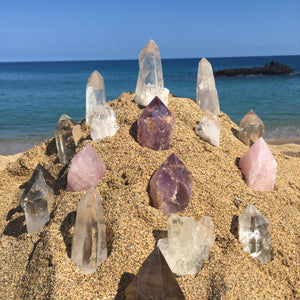 Charging your crystals
 Kauai has a fantastic strong healing energy and we love to charge the crystals and jewelry under the sun, moonlight  and of course the majestic blue sea waters of Hawaii. We cleanse all crystals with white sage and palo santo and then Charge them before shipping  so you can receive your crystals infused with strong healing energy directly from Kauai. 
OUR HANALEI STORE
4489 AKU Road, suite 1, Hanalei HI 96714
 HOURS
10 AM to 7 PM
DAILY

Call as at 808 826 9304
Huge variety to choose from
Large selection of  crystals and fantastic jewelry available to choose from.
If you are not on island we would love to make a virtual appointment via facetime. You can choose your favorite crystal or jewelry piece just like you were here.
 Text or call us for a virtual (facetime) appointment
(808)634 66 61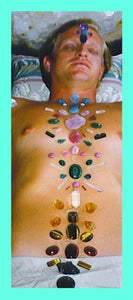 Crystal Healing
Crystal Healing is an advanced healing modality that works directly with the light and electromagnetic energy of the crystals and stones to assist in balancing all aspects of our being.  The crystal's energy infusion promotes balance and alignment, clearing stagnant energies, elevating mental awareness and allowing access into the subtle dimensions of consciousness, facilitating healing on all levels: physical, mental, emotional, and spiritual.
To book your crystal healing session email Tanize at tanizeweck@gmail.com or call /tex 808 634 66 61